Guide to Colored Pencil
Guide to Colored Pencils intuitive design has made them a favorite family art supply, but colored pencils also come in artist-quality varieties that are as far removed from basic pencils as sports cars are to go carts.
These performance colored pencils allow artists to achieve sophisticated drawings in styles ranging from loose and ethereal to photo-realistic.Like watercolors, colored pencils can be blended and layered together to develop complex hues. They also require few supplies, are low maintenance, and produce little mess beyond a few shavings.
This makes them ideal for both traveling artists and beginners: a pencil set, sketchbook, sharpener, and eraser are all you need for most colored pencil techniques. Keep reading to see what to look for in a colored pencil, our top colored pencil recommendations, and detailed test results for opacity, erasability, solubility, and more.
Prismacolor Premier Color Pencils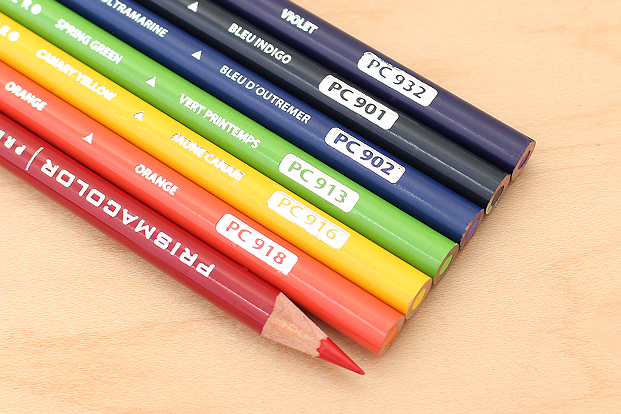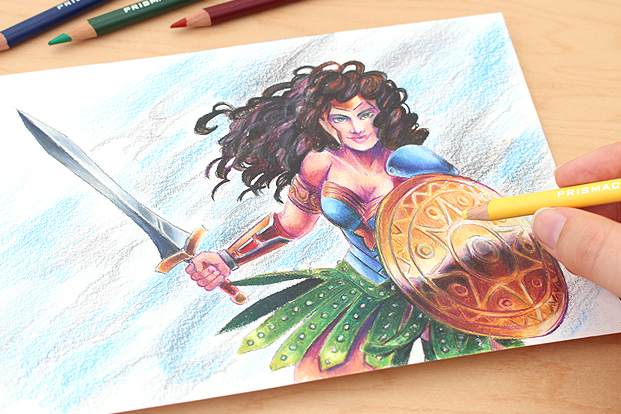 If you want one set of colored pencils that will work for almost any project, go with Prismacolor Premier Color Pencils. They come in a set of 72 vivid colors with extremely soft wax cores that apply smoothly and can easily achieve full coverage.
We especially love them for blending and burnishing. In testing, we found that layers of color almost melted together with very little effort. Because they are so soft, Prismacolor Premiers lose their points quickly and may leave crumbs on the paper.
Their wax binders also make them vulnerable to wax bloom, but this is true of all wax-based pencils. Using fixative minimizes this effect. Prismacolor Premiers are highly opaque and suitable for colored paper as well as other papers like coloring books and sketchbooks
CONSIDERATIONS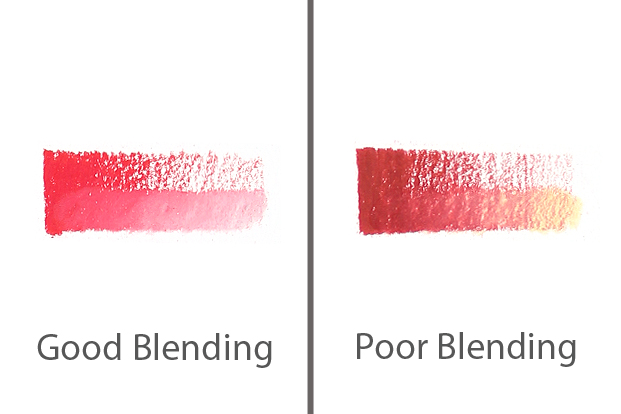 Blendability
Colored pencil art often involves layering multiple hues to develop specific colors and add shading. To help those colors look more cohesive, artists rub light-colored pencils or tools like colorless blender pencils over the layers until they merge together. Artists may also burnish their work to portray very smooth surfaces. This means that they blend layers of color with heavy pressure until the paper's texture no longer shows through. Burnishing is easiest with wax-based pencils. Soft pencils are usually easier to blend than harder pencils.
Solubility
Some colored pencil marks will dissolve when they contact liquid media like watercolors and inks. This is called solubility. It's usually best to use insoluble pencils in multi-media projects. More soluble leads may feather or show through other media layered on top of them. On the other hand, soluble pencils help artists blend colors and achieve beautiful painterly effects. Watercolor pencils are made specifically to be used this way. Colored pencils aren't typically water soluble, but artists sometimes dissolve them with other solvents like odorless mineral spirits.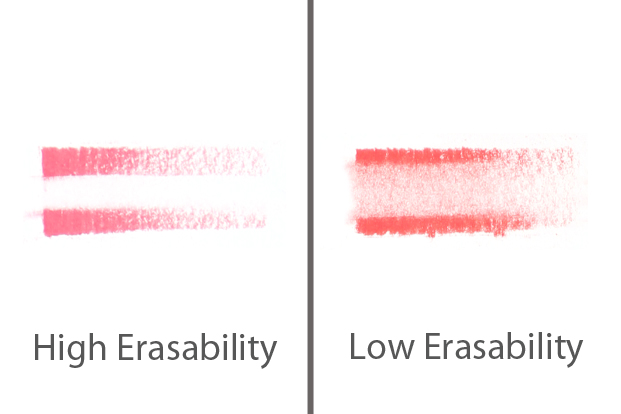 Erasability
Colored pencils are harder to erase than their graphite cousins, but that doesn't mean that you can't use erasing techniques. Some colored pencils are specifically made to be erasable. Others will erase to some degree but may not disappear completely. If you plan to use erasers to lighten specific areas or often want to remove stray lines, it's worth looking for colored pencils that erase well.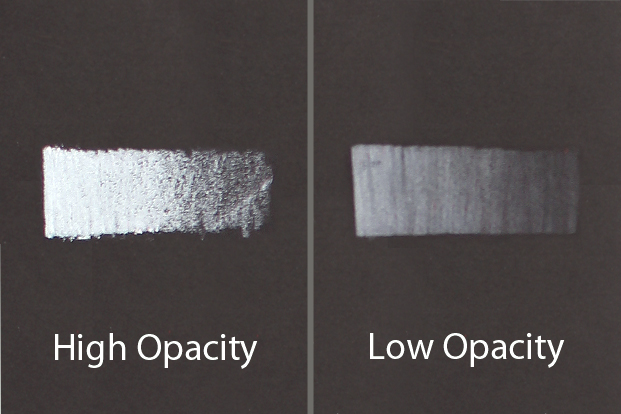 Opacity
Artists often use toned, or colored, paper to set the mood of a piece or help develop shadows and highlights. Some colored pencils work well on traditional white paper but seem to recede into toned paper. This is because they are not sufficiently opaque to prevent the colored background from showing through. Highly opaque pencils may also cover outlines in sketches or coloring books.
Hardness
Like graphite pencils, colored pencils can be hard or soft. Soft colored pencils are more opaque and good for laying down coverage. Using soft colored pencils feels closer to painting, but they lose their points quickly and may leave crumbs behind. Hard colored pencils are good for details and need sharpening less often, but they deposit less color on the paper.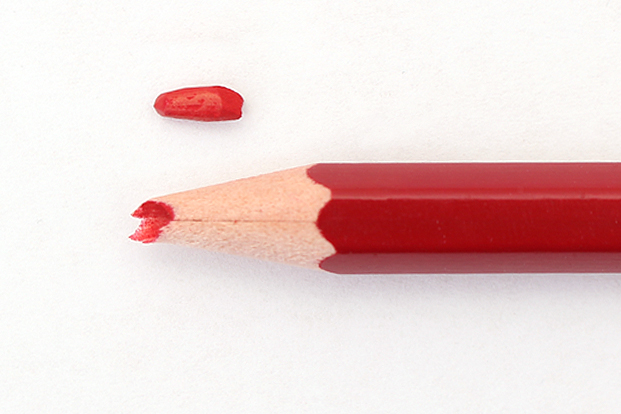 Durability
All wooden pencils are susceptible to broken leads, but the relatively soft cores of colored pencils render them especially vulnerable. Pencils made with high-quality wood that is securely bound to the pencil cores are less likely to break from being dropped or sharpened. Harder pencils are less likely to suffer from broken tips due to the strength of their cores.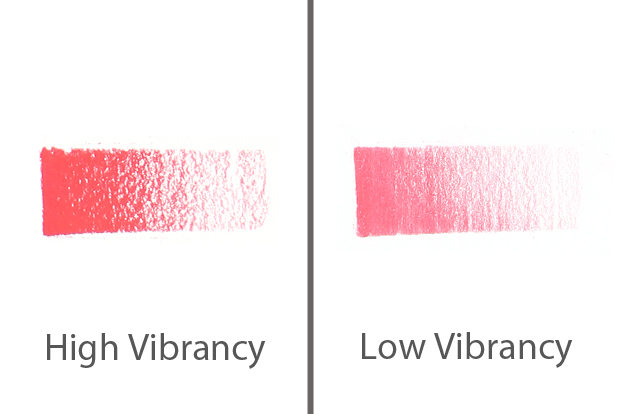 Vibrancy
Colored pencils should deliver rich color. This lets you produce a variety tones by using different amounts of pressure. Pencils made with more pigment are typically more vibrant, as are softer pencils. Many pigments will fade over time as they are exposed to light, so it's best to use lightfast colored pencils for important projects.
Pieces drawn with wax-based pencils may suffer from wax bloom, which obscures the color. Wipe the wax gently away to restore drawings. You can also spray finished pieces with fixative to greatly reduce the chance that they will develop wax bloom.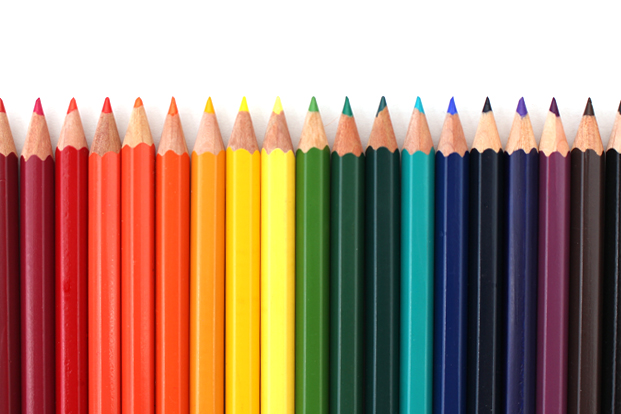 Color Selection
It's best to choose pencils that come in a wide range of colors. Paints allow you to mix colors fairly easily, but blending colored pencils is harder and takes more time. There are also some colors, like vibrant purple, which are difficult to blend from pencil. Choosing pencils that come in many different hues helps you achieve the right color more easily.It's easier in the long run to choose pencils that are available individually as well as in sets. This lets you replace colors as you use them up, rather than buying entirely new sets to replace your favorite hues.
For Fine Art
Fine art colored pencil drawings use many layers to develop realistic images with incredible depth, dimension, and lifelike colors. The best colored pencils for fine art are highly pigmented and come in a large range of hues.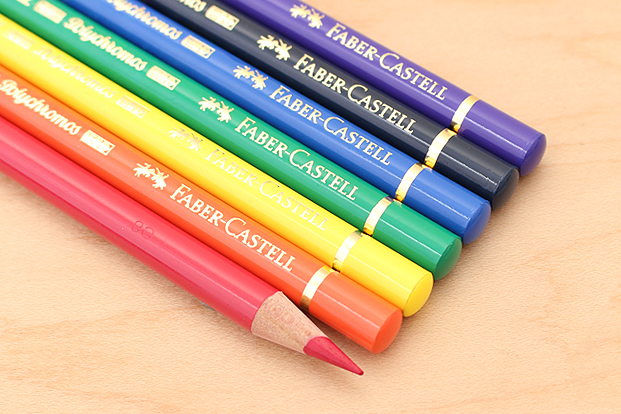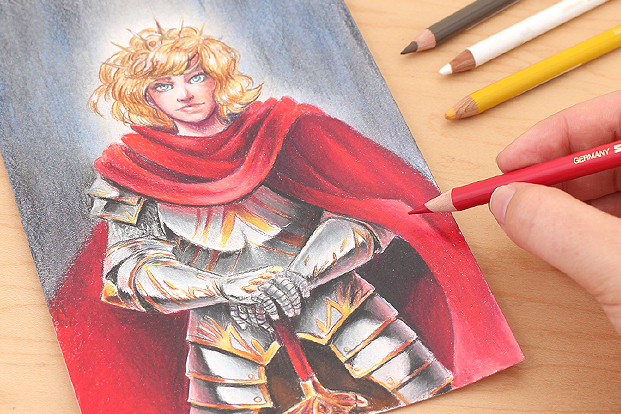 Faber-Castell Polychromos are the pencils to use if you're drawing a piece for display. Their richly pigmented cores are oil based, which means that they'll never suffer from wax bloom. More impressively, they are lightfast. Asterisks next to each color's name indicate how lightfast that specific color is so that you can easily see how each pencil will perform over time. These artist-quality pencils lay down a smooth layer of color at the slightest touch, but their strong points can also handle heavy pressure for greater intensity. In addition, Polychromos pencils are color-matched with other Faber-Castell products. This lets you easily combine colored pencil with other media, such as markers and brush pens from the Faber-Castell PITTline. Polychromos pencils come in 120 individual colors as well as sets of 12, 24, and 36 to help you achieve precisely the right hue.
Uni Pericia pencils are some of the most deliciously creamy pencils we've ever used. They feature a unique oil-based core that also incorporates a special wax for exceptionally smooth application. Their high-quality pigments yield vivid hues with each stroke. They blend well and are quite opaque, which makes them a good choice for colored paper also. They have good lightfastness. Uni Pericia colored pencils come in sets of 12, 24, and 36. They are packaged in gorgeous faux leather cases that make them especially attractive gifts.
For Sketching
Artists' everyday carry gear often includes a simple sketching kit to allow them to draw during their downtime and capture fleeting moments on paper. They also often begin more finished pieces with loose sketches in light-colored pencil. Colored sketching pencils don't need to come in as many shades as other colored pencils for artists, but those they do have should be versatile as well as hard enough to minimize smudging in a closed sketchbook.
Uni Vermilion and Prussian Blue Pencils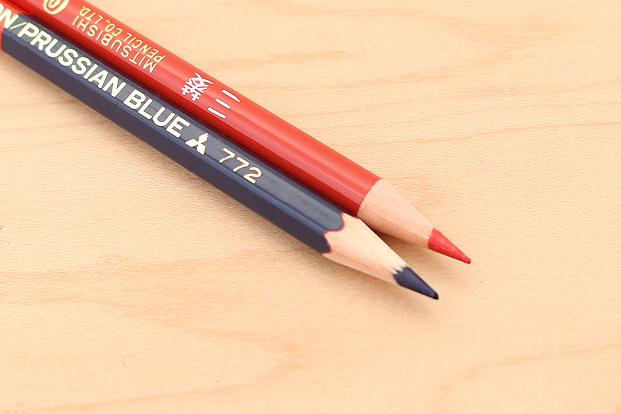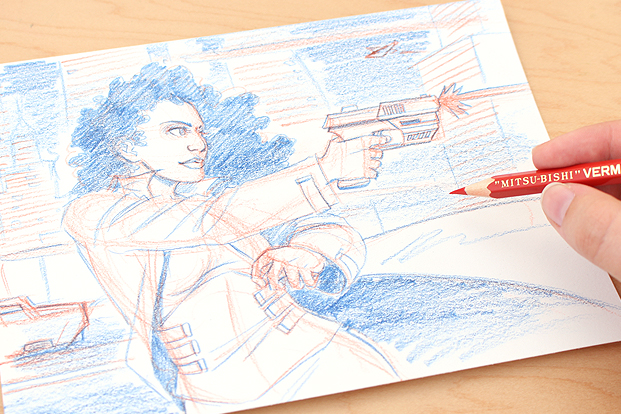 These pencils are designed for editors, but they're surprisingly good for sketching also. Uni Vermilion and Prussian Blue Pencils are double sided, so you can carry two colors without taking up any extra space. They have firm cores that don't smudge very much but are soft enough to easily lay down smooth lines. The vermillion side is a slightly orange red that works well for underdrawing, while the darker Prussian blue side is ideal for overdrawing and adding emphasis. These two-sided pencils are available in hexagonal or round bodies to suit your preferences and either an even distribution of the two colors or a 7:3 ratio of vermillion to Prussian blue for those who use the red side more often. They also come in single-color erasable versions.
Also Consider: Caran d'Ache Sketcher Pencils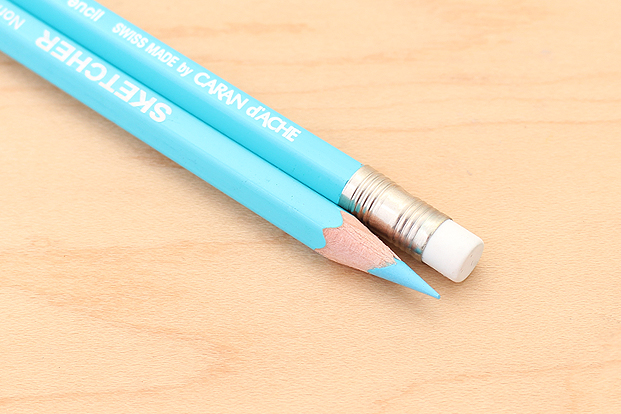 If you're sketching an underdrawing for a drawing that you plan to work with digitally, Caran d'Ache Sketcher Pencils are the perfect choice. They come in a single light blue hue known as non-repro blue. This shade of blue is not picked up by black and white photocopiers and is easy to edit out of scanned images. They also take ink well without showing through. This allows artists to draw over their lines and complete multi-media projects without worrying about stray marks. They erase well. Their leads are hard enough to resist breakage and maintain a sharp point yet soft enough to draw smoothly and easily.
For Colored Paper
Colored paper, also called toned paper, offers artists several advantages. It can give a drawing a unified look, set a certain mood, and speed up the development of colors, shading, and highlights. If you plan to use toned paper, look for pencils with high opacity. This will allow you to develop vivid images on darker surfaces.
Uni Arterase Color Pencils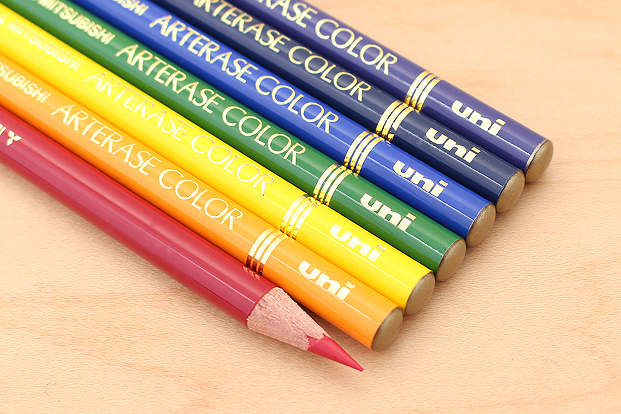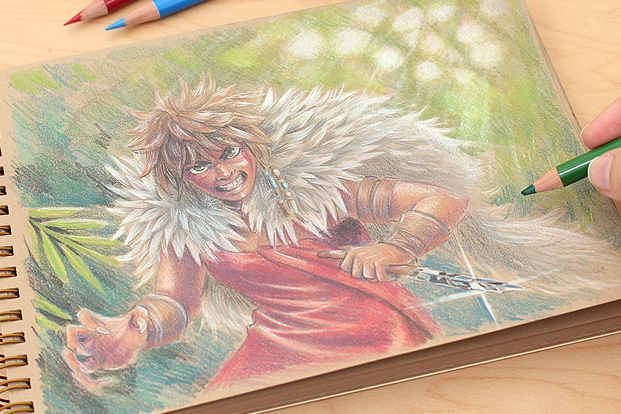 Our favorite colored pencils for toned paper are the Uni Arterase. They are highly opaque and stand out boldly from dark paper. They are also an absolute joy to use, with cores that are simultaneously firm and gloriously smooth. Their strong tips sharpen to precise points and readily produce different color values depending on the amount of pressure used. They blend together well. As a bonus, Uni Arterase colored pencils erase astonishingly well. If you use erasers to add highlights, remove initial sketches, or just tidy up mistakes, these are the pencils for you. They come in sets of 12 and 24 as well as singly and in a 36-color bundle.
For Coloring Books
Many people start coloring with whatever tools they have on hand, but ordinary colored pencils are inconsistent and poorly pigmented. Higher-quality colored pencils let you use layering and blending to fill the intricate patterns of adult coloring books with more beautiful and subtle hues. Their vivid colors can be a revelation – not to mention, their smoothness makes coloring even more relaxing.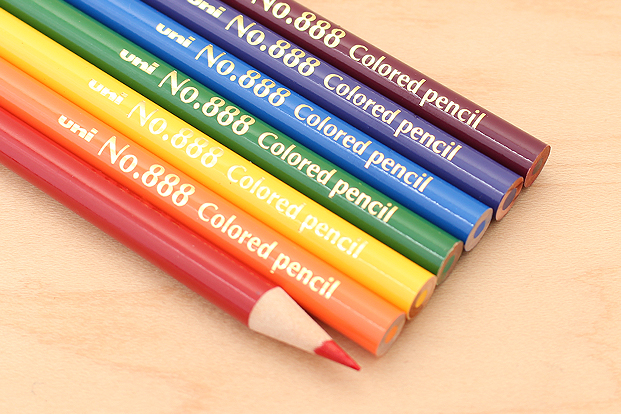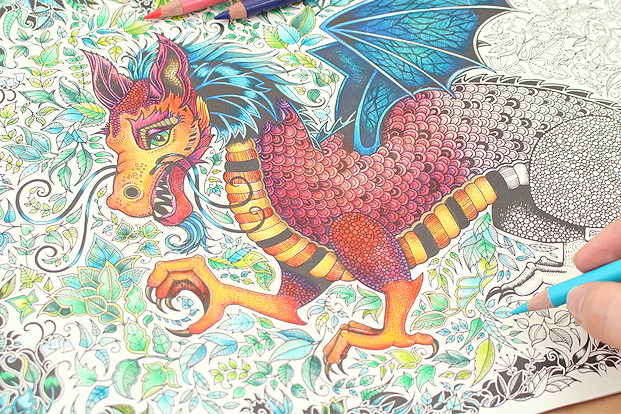 Uni designed their No.888 Color Pencils specifically for coloring books. They come in a set of 36 that includes several rich hues of red, brown, and green. This allows colorists to depict natural motifs like plants and animals with great detail and variety. They also layer well, so you can build up more colors than are represented in the set. Uni No.888 colored pencils are pleasantly soft and allow for smooth gradations between colors.
Also Consider: Palomino Blackwing Colors Colored Pencils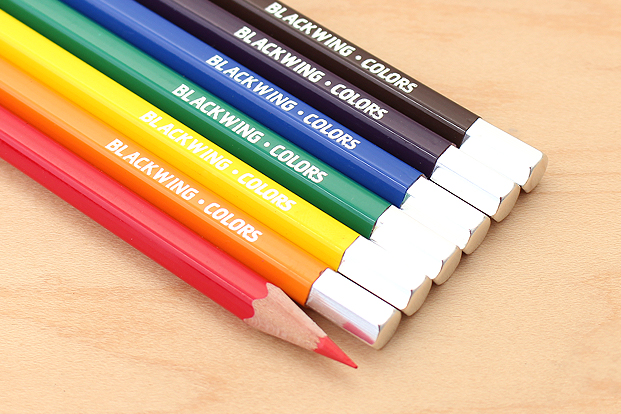 In addition to their famous Blackwing graphite pencils, Palomino also produces vibrant colored pencils. Like the Uni No.888, Palomino Blackwing Colors are made specifically for adult coloring books. They have wonderfully smooth wax-based cores for easy coloring and work best on mildly textured paper. Their main drawback is their limited selection of 12 bright hues. If you'd like more different colors, try the Tombow Irojiten Color Pencils. These harder Japanese pencils come in unusual shades, including fluorescent and grayscale.
Watercolor Pencils
Guide to Colored Pencils: Water-soluble pencils combine the best features of painting and drawing. When dry, they have the precision and control of standard colored pencils. Once wet, their marks disperse like watercolor paint. Artists can even dip their tips in water to produce extra-bold lines or use wet brushes to grab pigment to paint with. Typical drawing paper warps when wet, so it's best to pair watercolor pencils with heavier paper.
Caran d'Ache Museum Aquarelle Pencils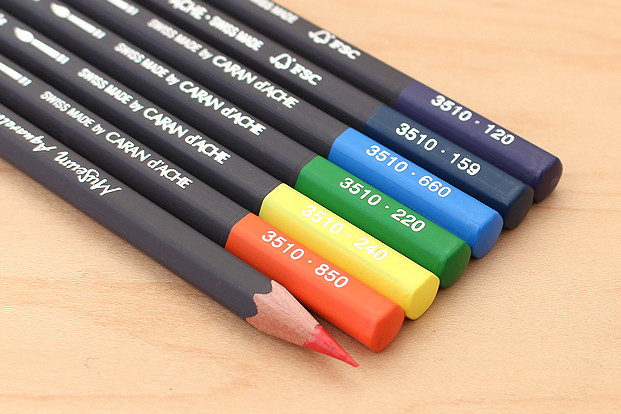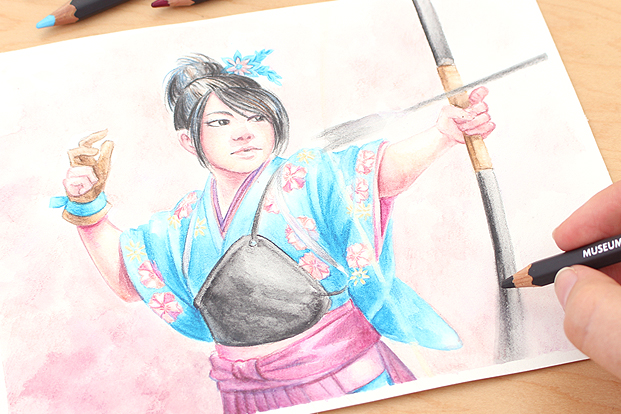 Caran d'Ache Museum Aquarelle Pencils are designed to produce museum-quality artwork. They have extra-thick cores of concentrated pigment that leaves brilliant marks at the slightest touch. They are extremely soft. This means that they may leave crumbs on your paper, but they will also provide excellent coverage and blend very well. When touched with water, their colors brighten even further and spread smoothly.
These Swiss watercolor pencils are lightfast to prevent your art from fading over time. Each pencil bears a series of asterisks to show where it falls on the Standard Blue Wool Scale so that you can choose colors that are as lightfast as you need. Caran d'Ache Museum Aquarelle Pencils come in 76 individual colors. Because they are slightly wider than most other pencils, they don't fit in every sharpener. We have found that the Kum No. 410 Magnesium Pencil Sharpener works well.
Also Consider: Derwent Inktense Pencils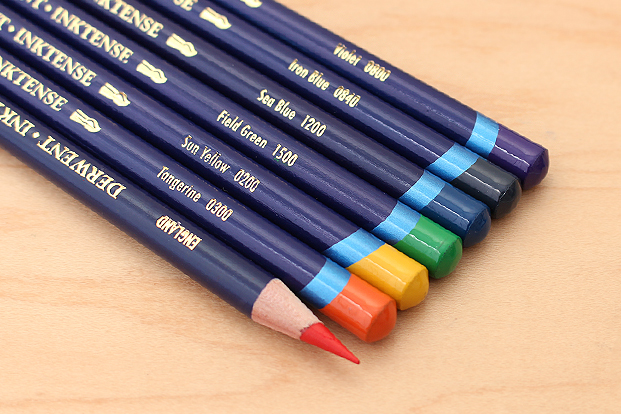 Derwent Inktense Pencils are named for their extraordinarily intense color they deliver when wet. Even when dry, their high level of pigmentation gives artists vivid color without using up a lot of pencil. Water brightens the color to be truly "Inktense." They have thick, buttery cores and dissolve easily into watercolor washes. Once they dry, washes become permanent. This allows artists to safely layer multiple colors and media over previously activated pencil marks. Inktense pencils are available as singles, sets of 6, 12, 24, and 36,
ACCESSORIES
Paper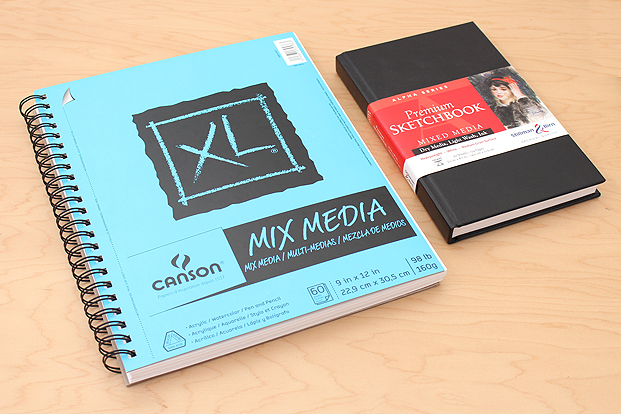 Stillman & Birn Alpha Sketchbooks and Canson XL Mix Media Padsare excellent for colored pencils.
Colored pencils will work on almost any surface, but we recommend paper with mild tooth. The Stillman & Birn Alpha Sketchbook is an excellent option. Its texture helps pencils deposit plenty of pigment, but it's not so pronounced that the paper grain breaks up the color significantly. Alpha sketchbooks are also heavier than most colored pencil paper, which gives you the option to use light washes and mixed media.
Eraser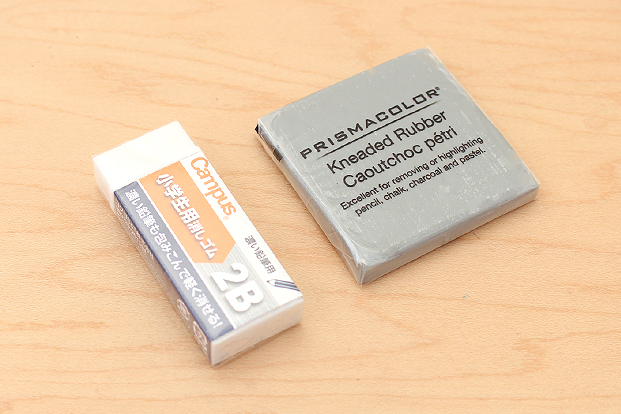 The best eraser for your colored pencils depends on what you are using it for. If you want to use the eraser as a tool to lighten discrete areas of color or form small details, try Prismacolor Kneaded Rubber Erasers. These pull color from the paper rather than rubbing it away and can be shaped to precise points. If you want to remove color more thoroughly, we recommend the Kokuyo Campus Student Eraser For 2B Lead. It erases colored pencil marks more effectively than most erasers and does not leave hard edges.
Sharpener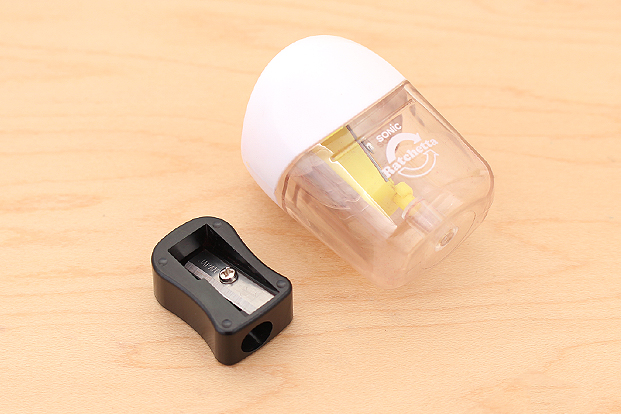 The Uni Color Pencil Sharpener may look like any other basic sharpener, but does a phenomenally reliable job of sharpening soft colored pencil leads without breakage. It produces a relatively short point. If you prefer long points, the Sonic Ratchettais an excellent sharpener that we often use for our own pencils.
Pencil Case
If you want to sketch throughout the day, you'll need a case to protect your pencils and make them easy to grab and go. Stylish Global Art Pencil Cases are made with sturdy canvas that can stand up to significant wear. The book style case has rigid paneling and a soft interior with secure elastic bands to prevent pencils from getting damaged. The two sizes can hold up to 24 or 48 pencils at once. If your collection falls between that number, the roll up case holds up to 36 pencils in individual slots. Read our Comprehensive Guide to Pencil Cases, Pouches, & Rolls for more suggestions.
Guide to Colored Pencils
TEST RESULTS
We tested all of our colored pencil lines to help you choose the best option for your use. Since each colored pencil line can contain dozens of colors, we chose to compare similar hues from each line rather than test every pencil color. We separated our tests into two tables: general properties and solubility.
General Properties
All tests except opacity were performed with representative reds from each pencil line.
Swatch: We shaded each swatch from soft to hard pressure to show the full range of shading available.
Erasing: We erased the center of each swatch with a Sakura Foam Eraser.
Smudging: We rubbed half swatches with a finger to see how much color would smudge.
Opacity: We swatched white pencils on black paper to see how opaque the pencils were. If a line did not include white, we used the lightest available substitute.
Crumbling: We made a partial swatch with hard pressure and photographed the crumbs left on the paper.
| Swatch | Erasing | Smudging | Opacity | Crumbling |
| --- | --- | --- | --- | --- |
| Palomino Blackwing Colors | | | | |
| Caran d'Ache Museum Aquarelle | | | | |
| Caran d'Ache Sketcher | | | | |
| Derwent Inktense | | | | |
| Faber-Castell Polychromos | | | | |
| Prismacolor Col-Erase | | | | |
| Prismacolor Premier | | | | |
| Prismacolor Verithin | | | | |
| Tombow Irojiten | | | | |
| Uni Arterase | | | | |
| Uni Pericia | | | | |
| Uni No.888 | | | | |
| Uni Vermilion and Prussian Blue | | | | |
Solubility
All tests were performed with representative reds from each pencil line.
Swatch: We shaded each swatch from soft to hard pressure to show the full range of shading available.
Water: We drew over the swatches with a water brush.
Odorless Mineral Spirits (OMS): We drew over the swatches with odorless mineral spirits.
Ink: We drew over the swatches with a Pentel Pocket Brush Pen and Copic Multiliner SP Pen.
| Swatch | Water | OMS | Ink |
| --- | --- | --- | --- |
| Palomino Blackwing Colors | | | |
| Caran d'Ache Museum Aquarelle | | | |
| Caran d'Ache Sketcher | | | |
| Derwent Inktense | | | |
| Faber-Castell Polychromos | | | |
| Prismacolor Col-Erase | | | |
| Prismacolor Premier | | | |
| Prismacolor Verithin | | | |
| Tombow Irojiten | | | |
| Uni Arterase | | | |
| Uni Pericia | | | |
| Uni No.888 | | | |
| Uni Vermilion and Prussian Blue | | | |
CONCLUSION
Colored pencils are easy to get started with yet full of potential for experienced artists. Whether you prefer sketching on the go, drawing detailed portraits, or coloring for stress relief, these versatile and high-quality tools deserve a place in your art kit.
| Name | Colors | Hardness |
| --- | --- | --- |
| Palomino Blackwing Colors | 12 | Soft |
| Caran d'Ache Museum Aquarelle | 76 | Soft |
| Caran d'Ache Sketcher | 1 | Medium |
| Derwent Inktense | 36 | Soft |
| Faber-Castell Polychromos | 120 | Soft |
| Prismacolor Col-Erase | 25 | Hard |
| Prismacolor Premier | 72 | Soft |
| Prismacolor Verithin | 41 | Hard |
| Tombow Irojiten | 90 | Medium |
| Uni Arterase | 36 | Medium |
| Uni Pericia | 36 | Soft |
| Uni No.888 | 36 | Soft |
| Uni Vermilion and Prussian Blue | 2 | Medium |